A Perspective on Video Games and Technology for Gamer Chicks & Dudes

This is a safe haven for all you girls in gamin' - no discrimination allowed!



So who is the Gossip Gamer?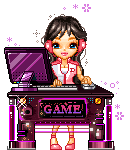 Well, I'm a girl. And I love to play video games. And I love to write. Thus, this blog was formed! I hope to someday be a journalist for Game Informer, or even just to work for any gaming magazine or website. That'd be a dream come true!
So why follow me? I promise to bring you some fantastic gaming comedy, breaking news, my rants and reviews, and much, much more! This blog is mostly for gaming-inspired content, so you may find a drink recipe for "Boomer Bile" (better than it sounds) or some fun online game suggestions. You'll also encounter some personal posts about my life - hope I don't bore you too much. :p
Want to game with me? Ask me for my Xbox Live Gamertag! My ask box is always open - I love hearing from you guys. So, enjoy the blog and don't be afraid to message me with questions or comments! If you want to know more about me, check out my "The Girl Behind The Gaming" page! =)
Check out my other blog: http://tbesttinlife.tumblr.com/. Really just me reblogging stuff I like. Maybe you'll like it too. :)
Display picture source: http://ariewtf.deviantart.com/
Note: If I ever forget to properly credit something (such as an artist on DeviantArt), please tell me! Not out to steal peoples' work, that's just rude. ;)

Check out who visits me: